Grogkill Cabin
Woodstock, NY
Maximum guests: 4 (winter), 6 (warmer months)
3 Bedrooms
Main House:
Bedroom 1 : King bed
Bedroom 2: Queen bed
Bunkhouse (warmer months):
Bedroom 3: 1 Full bed

Bathroom 1: Full (shower + tub)
Essentials:
X Landline
✓ Cell service: Weak
✓ WiFi
✓ A/C (1 window unit)
✓ Dogs: Well-behaved dogs allowed with prior permission
Other Amenities:
✓ 7 Acres
✓ Fire Pit
✓ Fireplace
✓ Charcoal Grill
✓ Bunk House
✓ Bluetooth speakers
✓ Dishwasher
✓ Board Games
✓ Private community swimming pond
X Washer/Dryer
X TV
X Handicap accessible
Reason to rent: Rustic location with Scandinavian design sensibilities.
Instagram:
#GrogkillCabin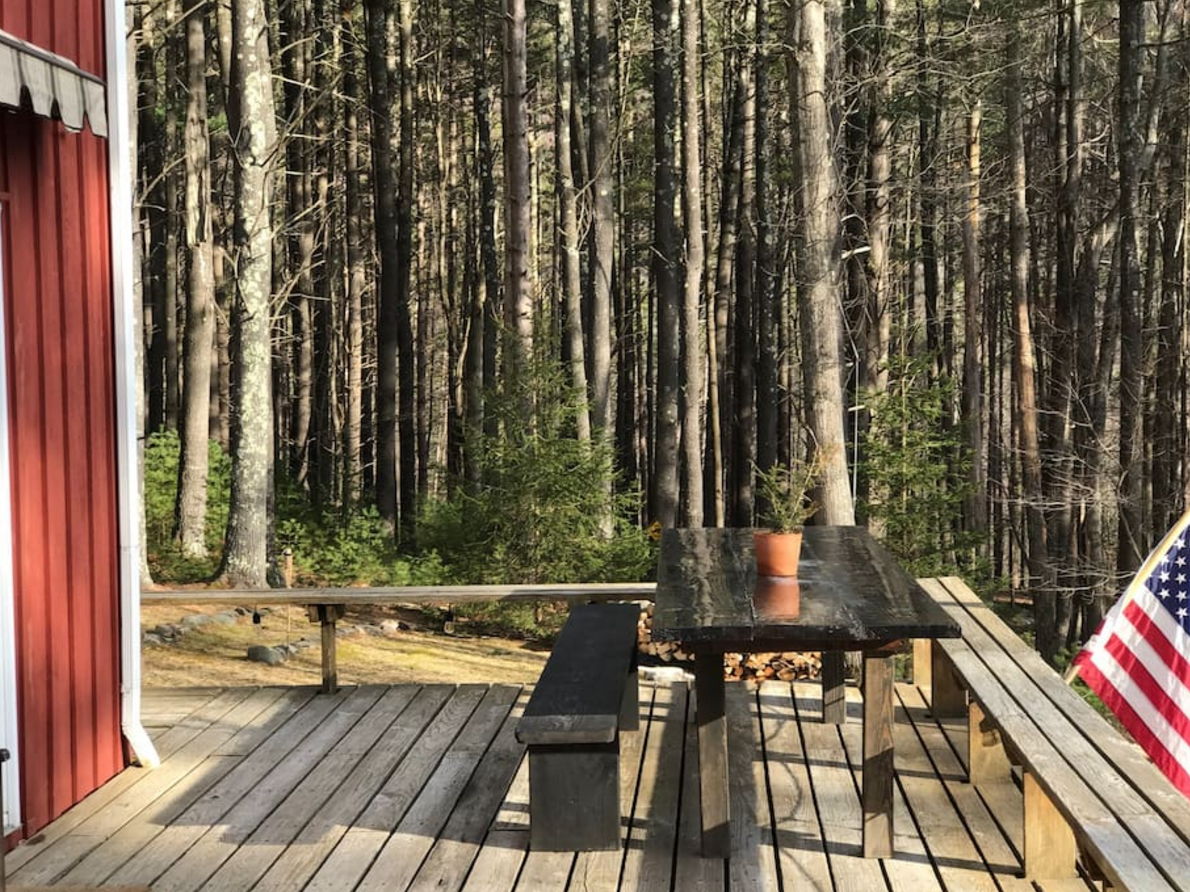 If the vibe you are going for is private, meticulously designed and romantic, then Grogkill Cabin will not disappoint.
Just a few miles from Woodstock, you'll find the cabin nestled amongst stunning trees with enchanting curb appeal. The house was built by a Norwegian couple in 1974, and though the finishing touches and taste were added by the current owners, the sensibilities of the builders also live on.
Guests are initially greeted by a large wraparound sun deck - sit out here with a coffee or some wine based one what time you arrive. Inside, a basic and functional kitchen opens up into breathable great room with fireplace. Climb up to the second floor to find the two bedrooms - one king and one queen. There's one shared bathroom at the cabin with a shower/tub.
A short trail leads from the house to a rustic but absolutely charming bunk house with twin bunks . With no bathroom and a tiny shared space, this spot might be best suited for kids or very close friends. We fell in love with it!
The outdoor amenities continue with a fire pit area leading to another short trail in the forest that opens up into a little clearing near the house. Take a short walk to get some fresh air in the morning. Guests may also access a shared but private community pond walkable from the house. You're certainly welcome to swim here, just be sure to bring your own floats and beach towels.
This year round escape is perfect in every season. Book now!
Important Winter Note: the guest cabin (sleeps 3) is available during the winter months but is heated by an oil radiator that takes about 20 minutes to heat up (and then gets toasty!). Probably only suitable for the heartier guests.
Use this search facility to find property or house features that will make your vacation memorable.