Whitfield Manor
Accord, NY
Maximum guests: 10-16
Main House: Sleeps 10
Bedroom 1: Full + private entrance
Bedroom 2: 2 Twins ("girls room")
Bedroom 3: Full
Bedroom 4: 2 Twins ("boys room")
Bedroom 5: King
4 Bathrooms:
Bathroom 1: Half (toilet + sink)
Bathroom 2: Full (shower + tub)
Bathroom 3: Full (shower + tub)
Bathroom 4: Full (walk-in shower)

Guesthouse (seasonal): Sleeps 6
2 Bedrooms:
Bedroom 1: Full
Bedroom 2: Twin Bunks (2)
1 Bathroom:
Bathroom 1: Full (shower + tub)
Kitchenette
Essentials:
Landline: No
Cell: Yes
WiFi: Yes
A/C: Yes (central)
Dogs: Well-behaved dogs allowed with prior permission

Other Amenities:
✓ 22 Acres
✓ 3 Fireplaces
✓ Charcoal Grill
✓ Fire Pit
✓ Swimming Pond with Dock & Zip Line
✓ Turntable and Records
✓ Piano
✓ TV: Apple + DVD
✓ Chef's Kitchen with Wolf Range
✓ 2 Dishwashers
✓ Washer/Dryer
✓ Chicken Coop
X Not handicap accessible
Instagram:
#WhitfieldManor
Reasons to rent: All the charm of a 1700s farmstead with twenty-first century comforts.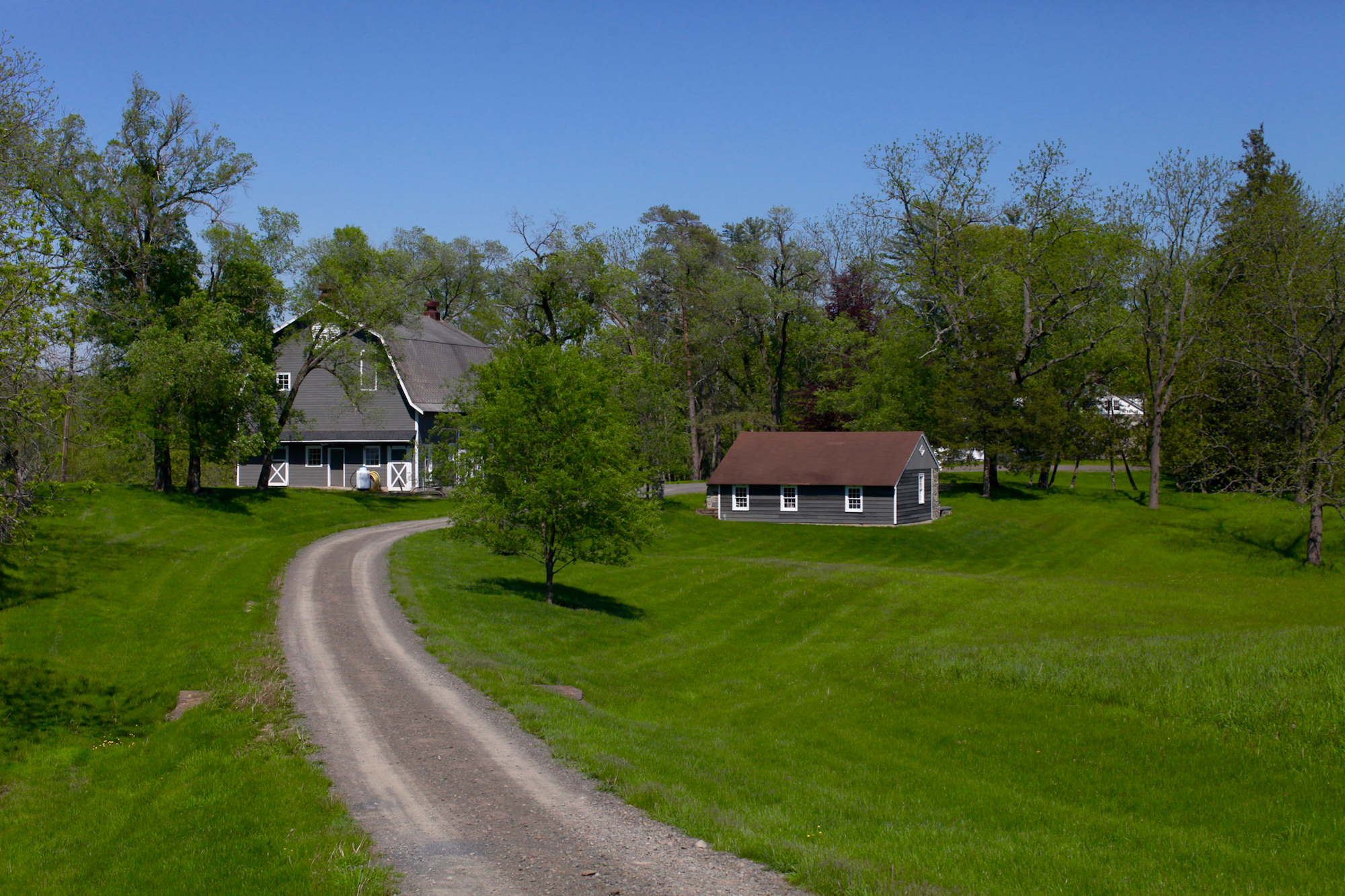 Whitfield Manor combines the alluring historic architecture of a farmstead dating back to 1758, with today's stylish sensibility and updated amenities, that makes this house a welcoming, comfortable destination for family and group gatherings.
The property has over 22 spectacular acres that include a swimming pond, guesthouse, barn and fire pit, while the exceptional stone and clapboard residence is elegantly laid-out with a number of separate wings to accommodate groups efficiently.
A private gravel driveway winds back through a rolling rural landscape reaching the barns and outbuildings before arriving at the main house where old world charm meets modern amenities, from wide beams, original wallpapers and Dutch farmhouse doors to chef's kitchen and contemporary furnishings.
Enter the main house through the beautifully-appointed kitchen, featuring a Wolf range, two dishwashers and loads of counter space, which is well-stocked with kitchen essentials. An annex extends to an open plan butler's pantry and a cozy breakfast nook.
From the kitchen, a stairwell leads down to two rooms on the lower level: a guest room with full bed and a private exterior entrance, and a laundry room with a half bath.
Back on the main floor, the breakfast nook connects with the first living room with fireplace and record player, as well as to the dining room with fireplace and piano. Continue through a formal sitting room which also features a fireplace and exposed beams, and on to the media room, where one can enjoy TV/DVD/Apple TV. There is also a full bathroom.
Upstairs are two lodging wings: The family wing features three bedrooms, a kids nook and a full bathroom extending from an elevated landing. The first room is the "girls room" with two twin beds. The second room is a guest room with a full bed, and the third is the "boys room" also with two twin beds.
The master wing is bright and spacious, with a private lounge, master bedroom with a king bed, a bathroom with walk-in shower and a sunlit office. A back stairwell descends from the office down to the kitchen and dining room.
Outside, a covered outdoor porch with seating and grill extends from the dining room. In nice weather, the outdoor (uncovered) farm table is an excellent option for dining al fresco. The grounds offer an array of activities from swimming off the dock in the nearby pond, to late night storytelling around the fire pit. There are myriad alluring sites and settings for reading or quiet conversations throughout the grounds. Kids (and adults!) may love seeing the chickens in the coop next to the guesthouse (fed daily by the caretaker).
The main house accommodates a maximum of 10 guests in 5 bedrooms, while the seasonal guesthouse overlooking the swimming pond may be added to accommodate an additional 6 guests in 2 bedrooms during the summer season only.
The guesthouse couldn't be more charming with its screened in porch and signature wallpaper. Enter directly into the first guest bedroom with full bed. The next room through a short hallway is a sleeping nook with a set of two twin bunkbeds. Brew coffee and play some tunes in the morning in the small sitting room. The guesthouse has a shared bathroom with a tub/shower.
Whitfield Manor is conveniently located just outside of the town of Accord, with easy access to local grocers and cafes. World class hiking and breathtaking mountain views are minutes away at Minnewaska State Park, or drive just 30 minutes to hip Kingston for a selection of foodie restaurants, cocktail bars, wine shops and antiques stores. Check out our Kingston area profile for more staff recommendations.
Use this search facility to find property or house features that will make your vacation memorable.