Woodlands
Claryville, NY
Maximum guests: 6
3 Bedrooms:
Bedroom 1: Full
Bedroom 2: Queen
Bedroom 3: Full
2 Bathrooms:
Bathroom 1: Full (walk-in shower)
Bathroom 2: Full (walk-in shower)
Essentials:
✓ Landline
X Cell service (wifi calling available)
✓ WiFi (cable)
X A/C
✓ Dogs: Well-behaved dogs allowed with prior permission
Other Amenities:
✓ 5.3 Acres
✓ Local Swimming Hole
✓ Deck
✓ Gas Grill
✓ Fire Pit
✓ Children's Playhouse
✓ 2 Flat Screen TVs with Cable
✓ 1 TV with VHS
X Not handicap accessible
Reason to rent: Peaceful cabin getaway among the trees, with a sunny deck and a nearby swimming hole.
Instagram:
#woodlandsCL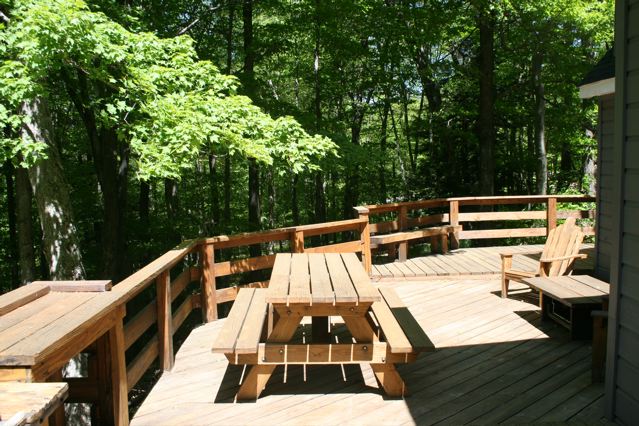 Woodlands, a three-bedroom, two-bathroom house is a great escape from the city, specializing in that all-too-elusive peace and quiet, with enough space to socialize with friends and family in a dramatic mountainside setting.
The house has lots of windows, but retains it's privacy, set as it is on a quiet, seasonal lane. In spring, summer and fall the roomy wraparound deck is the center of activity...and of tranquility, whichever is your thing. And then, of course, there are wonderful barbecues culminating with chats by the fire pit continuing on into the night.
Children will revel in the adorable "Children's House", a playhouse scaled to kids' size, complete with furniture and loft.
Perched on an incline, you can gaze out into the lush woods, listen to birds, perhaps the relaxing sound of the seasonal stream that runs alongside the house, or sometimes hear only the rustling of the leaves. Inside, there is a flat screen cable TV located in the living room, and internet so guests can stay wired (you'd rather be hiking anyway, right?). And there are loads of games if the weather doesn't cooperate.
The master bedroom is downstairs, just off the kitchen, and has its own entrance to the downstairs bathroom. Located in the downstairs bedroom is one flat screen TV with cable, and one additional TV that has VHS and a large movie selection. Upstairs are two small bedrooms accessible by spiral staircase, but it should be noted that the ceiling slants and therefore full standing area is limited at the sides of the rooms. There are full beds in each of those bedrooms.
Claryville is a cozy mountainside hamlet that is home to a vibrant yet private second home community. The cabin is perfectly located with nearby access to the local swimming hole and great trailheads, like Slide Mountain.
We have two separate rentals available very nearby, which may be handy for groups or families who want to share their vacation, but have separate spaces:
Cutaway Cottage is a short walk, and Blue Deer Cabin is about 1/4 mile DOWNHILL from Woodlands (uphill on the way back!).
Use this search facility to find property or house features that will make your vacation memorable.